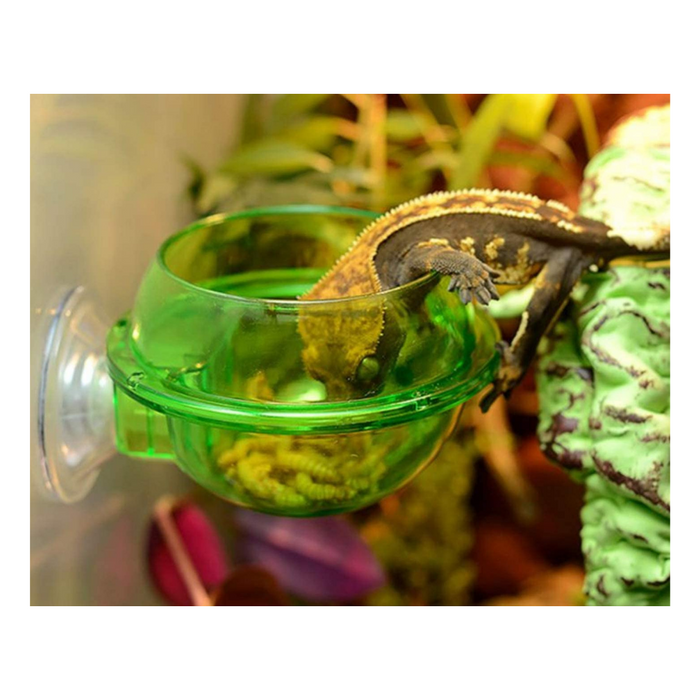 Anti-Escape Suction Cup Feeding Dish
Ships M-F and you should receive your order within a few days of purchase!

 Anti-Escape - High rounded edges keep your feeder insects in, and allow your reptiles easy access!

 Bright green color quickly attracts your animals to the insects!
Great little food dish, made specifically for arboreal reptiles! Don't like letting all your bugs out in your terrarium? Great! This is our Anti-Escape food bowl! It is a bright green color and the suction cups work extremely well! We offer the WORRY-FREE GUARANTEE! If you don't love your new feeding dish, don't worry, we will buy it back from you! 1 x Suction Cup Reptile Feeder. It should be noted that in order to achieve the best adsorption effect, please follow the steps to install the suction cups feeder ledge: The suction cups feeder ledge consists of four parts: Soft Pad, Hard Cover, Screw Cap, and Feeder. STEP 1: Separate the four parts, Use water and a rag to clean the surface of the soft pads that come into contact with the glass, as well as the glass, wipe it clean, be sure free of dust and other impurities. STEP 2: Put the soft pad in the position you want to place and press it tightly by hand. STEP 3: Put on the hardcover and press tightly by hand. STEP 4: Cap the nut and screw it to the tightest position. There is a knob on the front of the suction cup to release or increase the suction on the glass. STEP 5: Lightly press the feeder into the screw cap to complete the final installation STEP 6: Finished! Have a try now how strong it is!