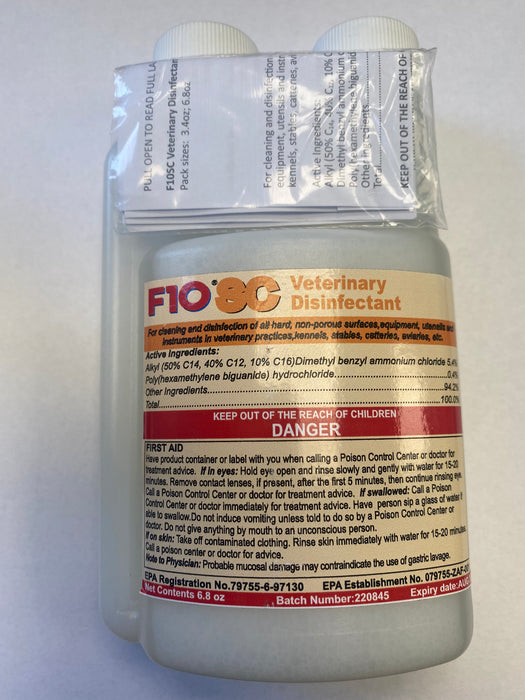 F10 Veterinary Disinfectant
Sign up for restock notifications!
Now the disifectant of choice by exotic keepers worldwide!  We use F10 products at the DBDPet facility and have had great results.  Does a good job on odors as well as one of the top disinfectants out there.
F10SC (super concentrate) veterinary disinfectant is an EPA approved hospital grade disinfectant. It is used in many of the world's leading veterinary hospitals and zoological institutions as well as by leading reptile, avian and exotic pet breeders and keepers. F10 disinfectant is widely recognized as the most effective and economical total spectrum disinfectant on the market.
F10SC Veterinary Disinfectant can be used in a wide range of applications — disinfecting cages, water bowls, floors, racks, shelving, perches and toys, food preparation areas, inside incubators, washing eggs and decontaminating hands. F10SC can also be applied as a fog or fine spray to mist rooms to eradicate airborne microbes and to stop cross contamination.
F10SC can be sprayed on and left to disinfect after cleaning with no need to rinse off.  Unlike many other products, F10 stays active providing an ongoing residual effect.
The recommended dilution rates of F10SC are: 
General disinfection at 1:500 (2ml in 1 liter of water)

High level disinfection against bacteria, fungi and most viruses at 1:250 (4ml to 1 liter of water)

For use against the most resistant viruses such as Parvovirus or PBFD at 1:125 (8ml in 1 liter or water)
Here at DBD we use the 1:500 dilution around the facility and for the reptile caging. Keep in mind that these dilutions are noted as per 1-liter spray bottles. If you are using the common 24-ounce spray bottle, you need 30% less F10SC concentrate per bottle. 1 liter equals approximately 34 ounces.
*NEW ADDITION*
Each bottle of F10SC includes a measuring pour spout.
F10 Veterinary Ready To Use Disinfectant With Sprayer is a broad-spectrum disinfectant effective against bacteria, yeasts, fungal, viruses, and spores for everyday use on hard surfaces, equipment, and air spaces.

This is the F10SC product pre-diluted to a 1:250 concentration that is safe to use for animals and not hazardous to humans. It is non-corrosive, non-toxic, non-tainting, and non-irritating, and is also chlorine- and aldehyde-free.