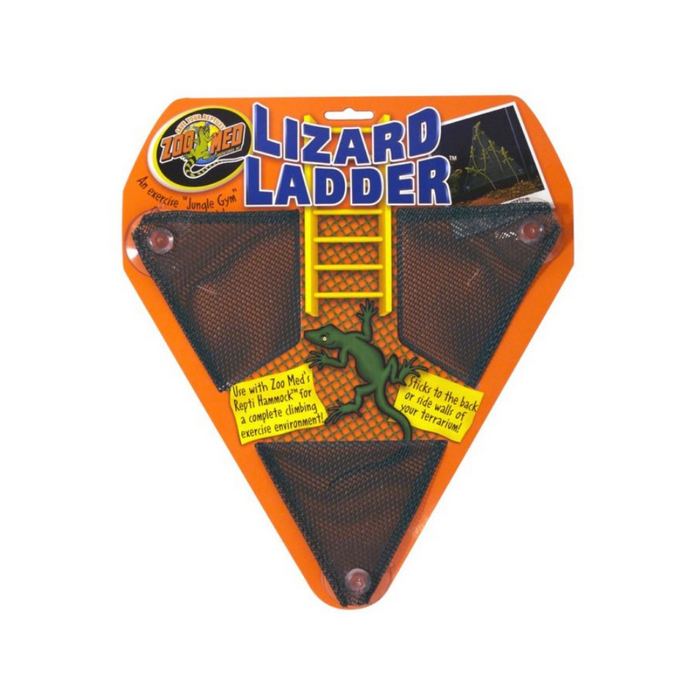 All pets need enrichment in their enclosure, pieces that make their home look nicer, but also items that will benefit them by giving them what they need. All animals, reptiles included need exercise to stay healthy, and the Zoo Med Lizard Ladder is just what they need.
Give your pet their own exercise jungle gym with the Zoo Med Lizard Ladder. Made with a soft nylon mesh, it's comfortable for your pet and is easy to install, detach and re-attach to any walls of your terrarium using the suction cups supplied. Gives your reptile pal more areas to climb, bask, play and rest and works perfectly combined with the Repti Hammock to create a multi-dimensional living space. Your pet will love to climb on it throughout the day, enabling them to get exercise and stress relief, which improves their health and wellbeing. Easy cleanup, simply take it out and wash, then add back in once it's nice and clean. Perfect for reptiles of all shapes and sizes and proudly made in the USA.
Soft nylon mesh ladder that will keep your pet busy and exercised.
Adds a multi-dimensional element to any terrarium living space.
Convenient suction cups provided make attaching to walls of terrarium simple, providing an easily accessible climbing gym for your pet.
Provides necessary exercise and enrichment needed to prevent stress from being in captivity.
Can be used with multiple lizards and is easy to clean.

Quick and easy to install out of the package, made in the USA.